High Throughput Screening (HTS) is a drug discovery process that allows automated detection of large numbers of chemical and/or biological compounds for a specific biological target. It speed up target analysis, as large scale compound libraries can be quickly screened in a cost-effective way. HTS should be seen as a fast scan of biological processes by which compounds with poor or no effects can be rapidly excluded from the analysis pipeline.
Creative Bioarray is a full-time, professionally managed facility with highly trained and experienced staff, advanced equipment, and a substantial library of compounds. These features, combined with a centralized knowledge base, increase cost-effectiveness and productivity in the ongoing fight against disease. Our platform allows convenient screening of compounds in 96, 384 and 1536 well formats for both enzyme/protein and cell-based assays using all available technologies (luminescence, fluorescence intensity, fluorescence polarization, FRET, TR-FRET, HTRF, absorbance). We have developed and optimized in vitro enzymatic assays, protein binding assays, protein-protein, protein-nucleic acids binding assays, cell viability, reporter gene and image-based phenotypic screening assays.
High Throughput Screening Capabilities
Creative Bioarray's scientists, with expertise across multiple therapeutic areas, target types, assay formats, compound management, and data analysis, are dedicated to helping our clients identify and advance their biochemical and cell-based assay discovery research programs.
Our screening center offers the following services:
Discussion on screening goals, assays and instrument compatibility
Pilot screening performed on a sub-set of compounds
Primary screening and optimization
Validation screening of a small library with a robust optimized assay
Screening the complete library of compounds (single or multiple compound concentrations)
Secondary screening development and/or screening of primary hits
Data analysis and storage
Hit-to-Lead optimization screening
Early safety assessment screening
Readout Capabilities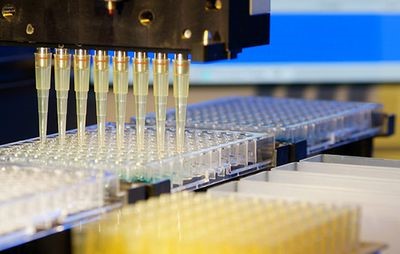 Luminescence
Fluorescence (FLINT, FRET, TR-FRET, HTRF, DELFIA, FP, LANCE, GFP)
Radio isotope
Absorbance (UV-VIS)
Technical Infrastructure
Our platform is equipped with instrumentation, robotic automation, and software for running high-throughput screening using a variety of assay technologies. The infrastructure is highly flexible, making it possible to run assays at any size.
Automation - A variety of liquid handling and robotic platforms make it possible to perform assays accurately and efficiently at any scale.
Detection devices - Numerous multi-label plate readers enable a wide range of plate-based assays.
High throughput microscopy - High-quality image analysis software are combined with high throughput automation technologies for results analysis.
Screening libraries - We use an extensive catalog of small molecules for molecular screening.
Informatics - Provide advanced analytics by using various software applications.
Creative Bioarray also offers compound screening services for client libraries in a single compound format or compressed format, and store copies of your library for multiple screening campaigns. With our extensive experience in medicinal chemistry, we are able to promote drug discovery programs into development and clinical trial stage efficiently and cost-effectively.

   Figure 1. The workflow of our high throughput screening.
Our customer service representatives are available 24 hours a day, 7 days a week.
Inquiry
For research use only. Not for any other purpose.